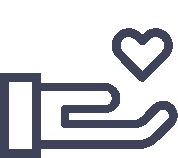 "For if we have received the love that restores meaning to our lives, how can we fail to share that love with others?"
Pope Francis, EG 8
Volunteering gives us a way to expand our horizons and serve others. At the chaplaincy, we organise a number of local volunteering activities but also have links with organisations that offer opportunities outside of term.
LOCAL VOLUNTEERING ACTIVITIES
Unversity offers a privileged time to explore ways of serving others. There are regular local volunteering activities based at the chaplaincy. Why not explore the options listed below and pop along to join in if you would like to.
The Chaplaincy has had a long association with the Missionary of Charity Sisters at Seel Street. The sisters have regular soup Kitchens at 4pm on Mondays, Tuesdays and Fridays and Sundays (following 3pm mass). The sisters especially expect students on Fridays and a group normally walk down from St Philips at 3:30pm. We are also regularly involved with Night Fever at the sisters.
At the chaplaincy, we try to support the work and campaigns of CAFOD and have been involved in some recent campaigns organised by the committees CAFOD rep!! Look at the CAFOD website for more information www.cafod.org.uk
OPPORTUNITIES OUTSIDE OF TERM
Why not do something special with your University holidays? Perhaps you are considering taking a year out after you graduate. Many Catholic organisations offer such opportunities. Take a look at the links below to explore some of the options.
Gap Year and Vacation Opportunities
Catholic Parliamentary Interns
Every year a group of Catholic young adults age 18-25 volunteer to serve as missionaries at SPEC in order to enter into a year of formation: intellectual, spiritual, communal, and pastoral. These young adults form our missionary family, committed to living an authentically Catholic Christian communal life-based at SPEC's home in north London
​
​
​
​